Do you want to find a new job or boost your career? Establish new customers, employees or partners? Be known for your expertise or receive career inspiration? LinkedIn is the fastest growing professional career network in modern time however only a fraction know how to write a professional and competitive profile.

At Newstart you will get all the tools you need to write a professional and competitive LinkedIn profile. We teach you how to build a clear personal brand and create a competitive LinkedIn profile which ensures that you stand out. You learn how to use LinkedIn to build a career promotion network in a short time and what to do to reach the top in Web-searches for someone with your skills.
With us you can develop your LinkedIn knowledge through
Individual consultation

Education
This is how it works
You register your interest in LinkedIn-boost via
the web directly here >>
.
You will be contacted by one of our LinkedIn coaches to book a meeting with you.

We can provide LinkedIn feedback by phone if that suits you better.

You are warmly welcome to book LinkedIn-Boost with us!
Stand out on LinkedIn! by Charlotte Hågård
Stand out on LinkedIn! is the first Swedish step-by-step book which teaches how to write a professional and winning profile that stands out! The book is written by career expert Charlotte Hågård, Newstart's founder.

In the book you will learn about current career trends, how to build a personal and professional brand, how you package yourself in a modern consultant profile and CV, in addition to how to build a structured and winning LinkedIn profile that showcases your professional identity in a convincing manner.
Read more about Stand out on LinkedIn! here!
Our LinkedIn seminars/workshops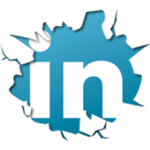 We offer a number of workshops and seminars on LinkedIn for different target audiences. We target those who want to learn more about LinkedIn and how to build and communicate a professional and competitive brand on LinkedIn, as individuals and businesses.
Learn more about our LinkedIn training here