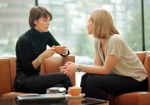 Do you need life and career coaching?
For many of us, the job is a great source of joy and development. But, it can also be a source of worry, stress and dissatisfaction, which can easily affect the entire life situation. To get ahead, you get the support and tools from your personal career coach here at Newstart. We will help you to structure your thoughts and reach your goals.
Individual life and career coaching is right for you if you want to
develop in your professional life but feel that you stand and stomp

do something else, but do not know what

set new professional goals

have better self-awareness and chart your own competence profile

find alternative opportunities internally or externally

take the next step in your career, for example as a manager

be better able to market yourself

become better and more effective in your job search

better balance in life

get professional coaching on your resumé, LinkedIn profile or prepare for interview
In our coaching program, we focus on your individual circumstances and planning together with you a program that suits you. Our mission is to help you succeed with your goals. We do this partly through a very proven and structured methodology and partly to support and coach you in your development. Your development is our passion!

This is how it works
You make an appointment with one of our career coaches. The easiest way is to email us at info@newstart.se or fill out our contact form here >>.
Then we will call you and book an appointment for a first meeting.

You can book Career Coaching per hour, 5 or 10 hours of programming. In your program includes personal coaching, a solid work materials and access to our online career tools.
You can also make telephone coaching with us.

Our clients can approach both shorter and longer programs. Our process is very structured with many tools. Our proven methodology, the Newstart modell for career planning, consists of three steps, Inward, Outward, Forward, starting with an initial mapping conversations where we go through your situation and needs.
Newstarts Career Coaches
A Career Coach at Newstart is your personal conversation partner with long experience of working with people and organizations in change. We have extensive experience from different industries and positions both in Sweden and internationally. A Career Coach of Newstart is your personal conversation partner with long experience of working with people and organizations in change.
Learn more about our career coaches here.
Read about our Career Coaches