Seminar
The brain and change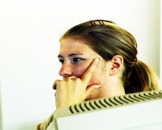 Changes will continue unabated in companies and organizations. Everything else should be executed, preferably in less time and with fewer resources.

The pressure for change is intense with elements of stress, frustration and conflict, while at the same time we must nurture ourselves, our own journey of change in life, with everything from work, family and relationships to personal development.
The recent news on social media is that H2H (human to human) is increasing over the more familiar concepts of B2B (Business to Business) and B2C (Business to Consumer). That means focusing on communication between individuals becomes even more important in the future.
In recent years research in neuroscience made great progress and created new insights into how we think/feel/act and influence each other. This is partly about how we behave but also how we influence others with our actions.
In our one-day training we present the latest research in neuroscience and provide you with tools and methods.

Programme areas:
Summary Transition-method

Experiences from participants of change

Neuroscience - How is the brain of change

SCARF-method.

Increase performance and reduce stress.

How we interact with change.

Breaking negative thoughts and conditions.

To lead the change process.

Course Facts
Duration: 1 day
Type: Open course
Price: 5900 SEK excl. tax
Aimed at: Businesses & Individuals